5 Ways to Use Social Media Marketing for your Business in 2018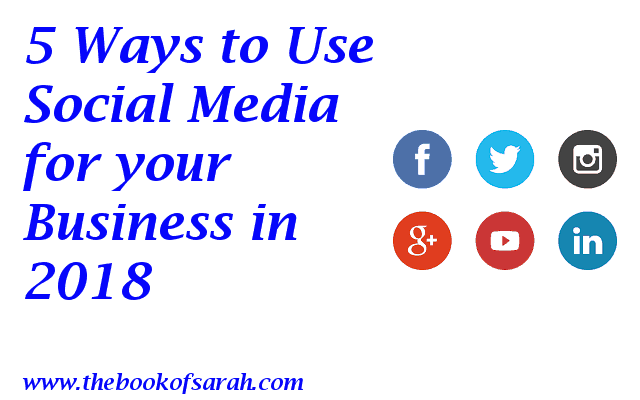 For many businesses, social media has opened more doors than they thought existed. Thanks to social media, businesses have found an almost 'level' playing field; whereby both small and big businesses are competing for the same eyeballs. I think this is the best time in history to be in business, and it will only get better as more businesses learn to use social media marketing for their benefit.

Of the many social media platforms, Facebook is the most popular social media platform in Kenya. The number of Facebook users in Kenya was 6.2 million as of June 2017 according to a social media report in Kenya. At the rate at which internet use is spreading in Kenya, this number can only get bigger. Facebook has opened massive opportunities for businesses to introduce their products and services into the market. At the same time, much larger businesses have taken to Facebook as customer care platforms. With increased use of other social media platforms such as Instagram, Twitter, Snapchat, among others, social media marketing is only getting started.

All the same, social media use has been evolving over the years, and an adept social media professional will have to evolve to comply with Mark Zuckerberg's new demands every now and them. So, what social media trends should we expect in the coming year?
More promoted post for your social media marketing
Unfortunately, you will have to pay some more to get visible. The more algorithms Facebook introduces, the more your posts will stay hidden in the mix until you promote them. You have to promote more of your content and you will see more of sponsored posts on your timeline.
More use of social influencers
Most businesses have been using some top social media influencers in Kenya. These will still be relevant in the near future. However, as a business, you will have to be subtle about promotions. Unlike in the past when we actually believed local socialites actually used the products they promoted, we now can tell between those who use the product and those just promoting them. People don't like branded and obviously promoted content. As a result, as a business, you may have to consider approaching micro influencers as opposed to celebrity influencers. These connect more with their followers and sound genuine about product use.
A recent Beckon Study found that branded content gets only 5% engagement; the rest of it gets in and out of the interweb untouched. Depending on what you are selling, make a wise choice on whether the 5% will return your worth.
More videos than content
Social media platforms are busy launching 'live' and 'story' features, because videos are the future of social media. If you are considering social media promotions this coming year, consider more video options. Could be an animated video or an actual footage, but it keeps your users engaged and thank goodness, internet packages are getting more and more affordable! Facebook and Instagram features allow videos to play as you scroll to catch your attention and that is working out so well already!
On the other hand, you cannot get rid of written content. Good old readers like me will still prefer written content to videos and I know that I am not alone. That's why they still print newspapers!
Chatbots
Chatbots are helping businesses improve interaction with customers through private messaging. Facebook has already integrated Chatbot into Messenger app making businesses available to provide 24/7 customer care support. More and more people prefer social media interaction to phone calls when it comes to customer care. Chatbots will be more popular in the coming year since they allow customers to get instant replies to their questions and concerns.
Don't jump onto the wagon if you can't handle the bumps!
One of my clients requested me to delete his business' social media account. Yes, at this day and age, they wanted that Facebook page gone. Why? Because it was affecting their business negatively and they were doing great without it. As an online branding enthusiast, I should be encouraging everyone to open a Facebook page, yet I agreed with this client when he wanted the page deactivated. Not all businesses need social media presence; especially if it is the kind of business that needs an insider to run their pages, and he/she doesn't have much online presence. If you can't run the page, outsource, if you can't outsource, stay without one.
What other future social media trends did I leave out?