How to become proactive and take control of your life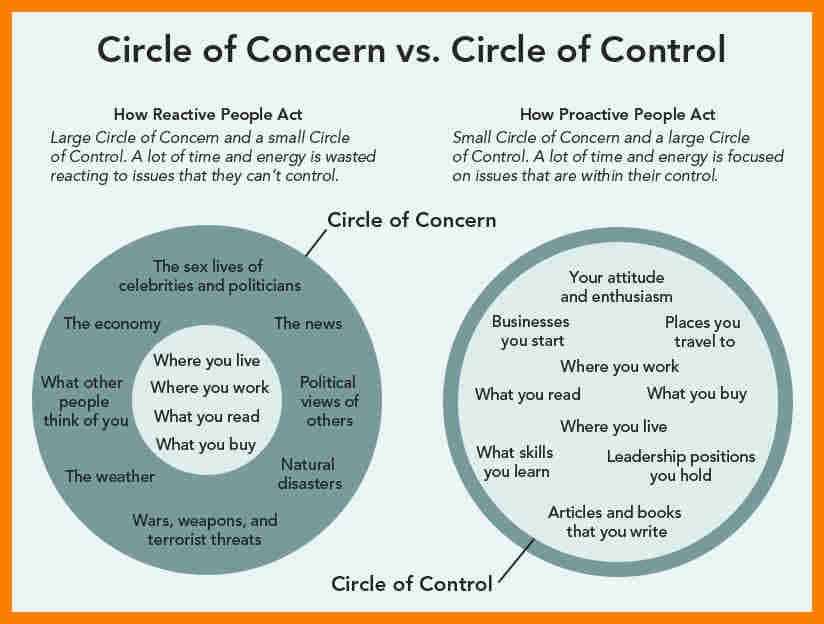 In his book, The Seven Habits of Highly Influential People, Stephen Covey describes habit number one as proactivity. He continues that proactive people take initial steps to lead their lives and make decisions on where their life is headed without relying much on external influence. They don't react to their environments, but instead, they create influence. This image of the circle of concern vs circle of control is close to what Stephen covey discusses.
When you are a reactive person, you let things that are not within your control affect you. You worry constantly about what other people think of you, watch the news and get constant worry about the economy, wars, terrorism, disaster, all of which you really cannot control yet you allow them to dictate your life. This is picking the wrong battles to fight since they are not your battles. I am not saying be ignorant of what's happening and let those suffering continue doing so. Here the question is, can you/ will you do something about it? If not, then quit worrying and reacting to the things in the circle of concern. Stop wasting your precious time and energy reacting to things that are not within your control.
One thing we commonly react to is worrying about what others think of us and this kind of worrying cripples us and stands in the way of trying something new since we worry so much about judgment. What people think about you is way out of your control and therefore you should not concern yourself with it. I have discussed this in my ebook 3 thoughts that could transform your life.
Instead of reacting to things that are out of your control, focus on the things within your circle of control. These are the things you can influence. Focus on your attitude and how you can improve it. Focus on what you want, the kind of business you want to have, where you would like to travel. These are within your control. Where to live, what to buy, what to learn, what to write and create is within your control. These are the right places to focus your energy and you become a proactive person since you are actually doing something about it.
Proactive people have a large circle of control and a small circle of concern. They choose not to react to things that are beyond their control but instead, focus their attention and energy to things they can influence. They make decisions depending on their abilities and motivations, which they can control, as opposed to how the external world impacts them.
This is the essence of personal leadership you preserve your energy on focusing on what will propel you towards your goals. Such include focusing on self-discipline to hit your targets, motivating yourself, dealing with anxiety if you have it, creating good relationships with those around you and simply improving your life. When you achieve this, you are one habit closer to becoming a highly effective person.